Shivanasamudra
EDP Day Out.
Initiation:
Through colorful mails, the plan was intimated to all. Few more mails & reminders — start time, head-count and pick-up points were finalized. Goswami's and Sowmya's organizational skills, to the smallest details, were at good display.
Our one day picnic to Shivanasamudra and if possible mahadevpura was to start at 7 AM "sharpâ€? on 11th Dec. A typical cold start – that we were in RBIN campus even at 9. Breakfast in the bus and we start!
A stop, at Mysore road, to pick up rest of the troop. Around 10:30, as the speedometer showed signs of life, people in the bus filled the atmosphere with energy and enthusiasm. Vikas's people management skills and energy were best displayed. His enthu was so infectious that he finally succeeded in making most people in the bus to dance to his tunes. It was followed by antakshari but late-morning sleep dampened it later.
Pop-corn, juice, another round of breakfast happened on the way. Fun n frolic continued. The decibel level at the back seats of the bus was constantly above average. Vikas, Dodda Ravi, Magu, Manjupai, Rukumani, Kantha make ideal recipe for laugh track. Dhanaji, Bhandu, Sunku added spice.
1:30 PM: At "bara chukki�. Cucumber, tender coconuts were ideal refreshments. With few photo sessions, we stepped down and proceded to falls.
step down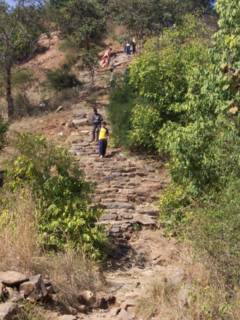 Water is such an attraction that we could not wait to jump into it. Playing in the water and under the falls made all the planning and the wait – worth.
wah…ter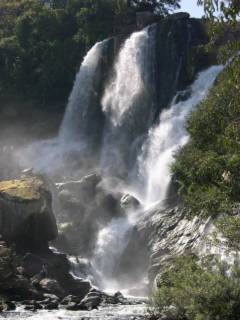 falling…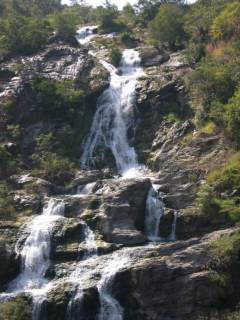 Two small unlucky incidents was the sad part of the picnic.
We returned to bus and it was time for lunch. Hungry stomachs, which were forgotten till now, were satisfied with delicious food. A small time gap to digest food was allowed so that drinks could be poured! We stopped on the banks of a water body. Like the water, drinks flowed. The shady, vast enough place, which was waiting for us, was just right for our snacks and refreshments.
juices 😉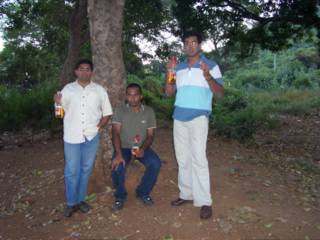 Time for lucky dip to distribute mementoes. And time to wrap up the day.
In the bus, "dumb charades�, "guess the good word� occupied time before a short nap. Around 11pm comfortably in the bed at home.
Three cheers to picnic organizers, managers and participants.